Masterclass with Royston Maldoom
&
Dance for Health with Andrew Greenwood
Masterclass with Royston Maldoom
Sunday, 23 April 2023 from 10:30 to 13:30
Ankersaal / Kulturhaus Brotfabrik,
Absberggasse 27, 1100 Vienna
Choreographer Royston Maldoom, pioneer of the community dance movement in Great Britain, offers insights into his choreographic practice and his worldwide, long-standing experience in creating choreographic processes in the context of participatory dance projects in a masterclass.
A visit to Royston Maldoom's Youtube Channel is recommended before attending the masterclass. This is in order to acquire a basic knowledge of his philosophy and works in advance. 

A cooperation with Tanz die Toleranz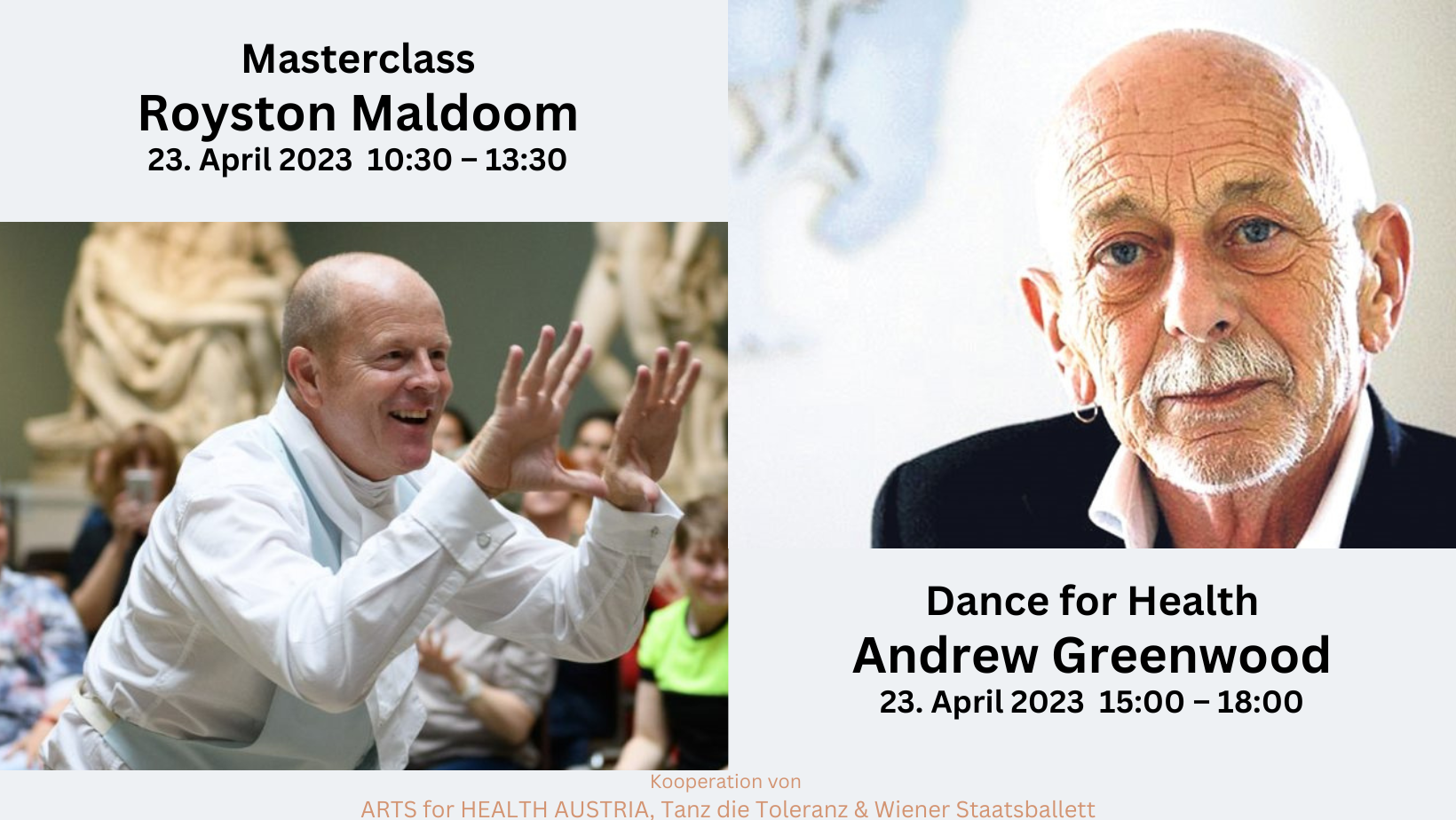 Dance for Health with Andrew Greenwood
Sunday, 23 April 2023 from 15:00 to 18:00
Ballet Academy of the Vienna State Opera,
Goethegasse 1, 1010 Vienna
Switch2Move, developed by Andrew Greenwood, is a movement practice and artistic process that aims to cultivate personal well-being through the art of movement. The programme focuses on motivation, integration on the physical, mental and social levels and stimulates personal growth. The specific programmes that have emerged from the Switch2move approach are also beneficial for people with physical and/or mental impairments, such as multiple sclerosis, Parkinson's disease, dementia, rheumatoid arthritis, etc.
This workshop is a continuing education programme. Participants will be introduced to the basic components of the neuromuscular stimulation tool S.I.M. (Social Implicit Movement) developed in England and the Netherlands. This comprehensive training includes dance-based movement, Laban analysis and therapeutic movement approaches.
A cooperation with the Vienna State Ballet.
The workshops are aimed at choreographers, dance teachers, dancers and all people interested in dance and participatory dance projects, including movement practitioners and health professionals.
The teaching language is English.
Fee per workshop: 80 € general / 60 € reduced*.
Fee for both workshops: 140 € general / 100 € reduced*.
*Discounts are available for professional dance and theatre practitioners, unemployed and students.
Registration for ONE or TWO workshops